『ポケットモンスター ソード・シールド』ダブルパック Nintendo Switch HAC-P-ZAACA
The item page includes the keyword "予約 (Pre-order)". The item may be a pre-order. Check the item page for more information about the release date.

Item Price

11,970

yen (including tax)
(≒

112.16 USD

)


Shop name

ヤマダ電機 楽天市場店

Item code

yamada-denki:10427177

International Shipping

Description

Calculated based on the estimated weight and size of your item.
Please use this estimate as reference for shipping costs.

Estimate
If you have any questions, requests, or concerns about an item, please contact us.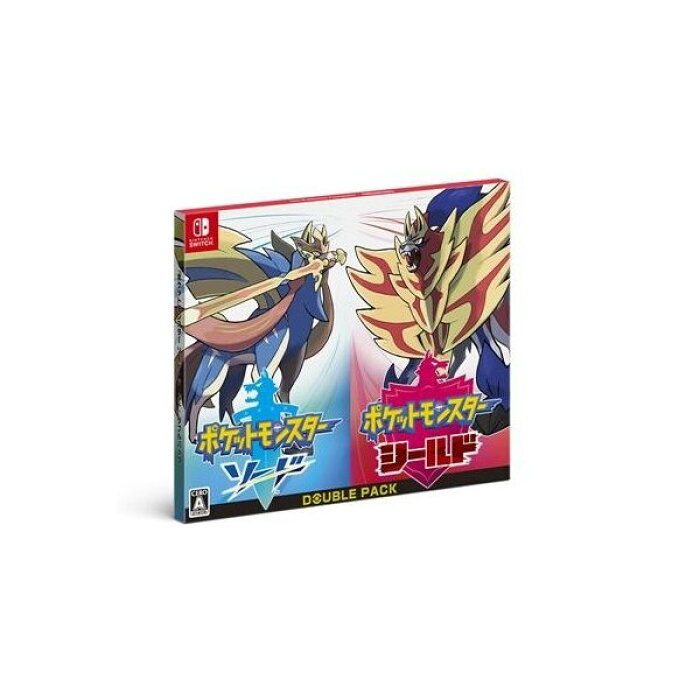 Pictures may not always show the correct item being sold. Please check the description and/or original item page to confirm that this is the actual item you wish to purchase.
Item Name
『ポケットモンスター ソード・シールド』ダブルパック Nintendo Switch HAC-P-ZAACA
Description
発売日:2019年11月15日※特に記載の無い特典等はお付けできません。※【ヤマダ電機オリジナル 早期購入特典】(A4マジッククリアファイル)付きの販売は終了いたしました。(2019/11/1 11:00追記)※【予約特典】(「ポケモンひみつクラブ」に入会できるシリアルコード) は終了いたしました。■商品名:『ポケットモンスター ソード・シールド』ダブルパック Nintendo Switch■メーカー: 任天堂株式会社■ジャンル:RPG■対応機種:Nintendo Switch■型番:HAC-P-ZAACA--------------------------------------------------------------------------------【ダブルパック限定特典】(1)ヨーギラスとの特別なマックスレイドバトルができるシリアルコード:1枚(2)ジャラコとの特別なマックスレイドバトルができるシリアルコード:1枚 Nintend Switchソフト『ポケットモンスター ソード』と『ポケットモンスター シールド』の2本がセットになった商品です。購入特典として、ゲーム序盤では登場しない「ヨーギラス」、「ジャラコ」との特別なマックレイドバトルに挑戦することができる特別などうぐ「ダイクリスタル」が受け取れるシリアルコード2種類が付属しています。※シリアルコード2種は、『ポケットモンスター ソード』『ポケットモンスター シールド』どちらのソフトでも、使用することができます。なお、同じ種類のダイクリスタルシリアルコードは、 1つのセーブデータに、 1回のみ使用できます。※『ポケットモンスター ソード・シールド』の発売から一定期間後、プレゼント受け取りを終了させていただく場合がございます。--------------------------------------------------------------------------------『ポケットモンスター』シリーズ完全新作が、Nintendo Switchに登場。ポケモンリーグに挑み、チャンピオンを目指そう!冒険の舞台は穏やかな田園風景や近代的な都市、険しい雪山などさまざまな表情を持つ広大な地方「ガラル地方」。主人公はこのガラル地方に点在する「ジム」を巡り、あこがれのチャンピオンを目指す冒険へと旅立ちます。ポケモンが巨大化する「ダイマックス」ガラル地方に生息するポケモンは、限定された場所でのみ、「ダイマックス」と呼ばれる、巨大化した姿で戦うことができます。中には同じ種類のポケモンであっても、大きくなるだけでなく、より個性が際立った姿に変化する「キョダイマックス」という特別なダイマックスができるポケモンもいます。自然が広がる「ワイルドエリア」「ワイルドエリア」と呼ばれる、複数の町につながる広大なエリアでは、場所や天気で出現ポケモンが変化する他、視点カメラを動かして、落ちているアイテムや空を飛ぶポケモンなどを探すこともできます。仲間と協力して挑む「マックスレイドバトル」シリーズ初となる4人協力プレイに対応し、友達と通信したり、世界中のポケモントレーナーとインターネットで協力したりして、手ごわい野生のダイマックスポケモンに挑むことができます。(C)2019 Pokemon. (C)1995-2019 Nintendo/Creatures Inc. /GAME FREAK inc.ポケットモンスター・ポケモン・Pokemonは任天堂・クリーチャーズ・ゲームフリークの登録商標です。※画像はイメージです予告なく変更される場合がございます。 記載の仕様及び外観等は予告なく変更される場合がございます。最新情報はメーカー公式サイト等でご確認ください。