【中古】ペン ウラヌス&ネプチューン 指示ボールセット(2本組) プリズムステーショナリー 「美少女戦士セーラームーン」 プレミアムバンダイ限定

Due to the keyword "Ink" being found on the item page, we think this might be a prohibited item. Is this item "Ink", or does the item include ingredients or components containing "Ink"?
If YES, the item cannot be shipped overseas.
If NO, you may proceed with your order.

* If an address within Japan is the final destination of your order, you may proceed regardless.

Item Price

1,840

yen (including tax)
(≒

17.15 USD

)


Shop name

ネットショップ駿河屋 楽天市場店

Item code

surugaya-a-too:36605639

Domestic Shipping

Description

The domestic shipping cost displayed is the cost to have an item shipped from the store or seller to our warehouse located in Tokyo.
* Domestic shipping costs displayed with "(est.)" are estimates based on similar shipments in the past.
The actual domestic shipping cost may differ from the displayed amount.

550 yen (est.)
(≒

5.13 USD

)

International Shipping

Description

Calculated based on the estimated weight and size of your item.
Please use this estimate as reference for shipping costs.

Estimate
If you have any questions, requests, or concerns about an item, please contact us.
Sorry, this item has been sold out.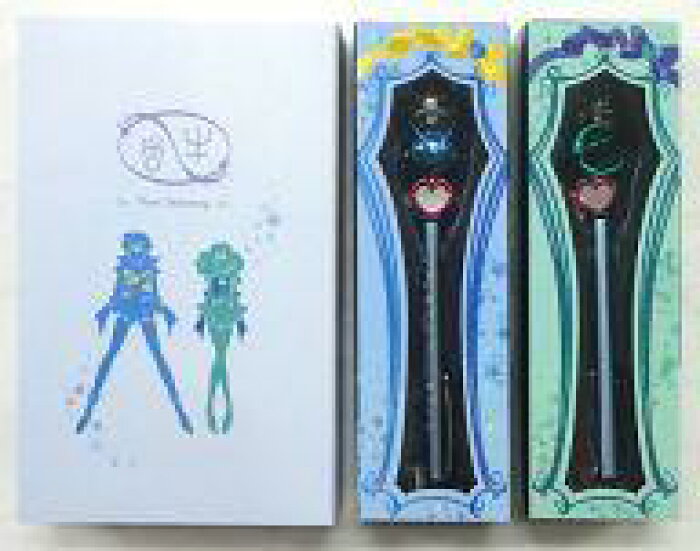 Pictures may not always show the correct item being sold. Please check the description and/or original item page to confirm that this is the actual item you wish to purchase.
Item Name
【中古】ペン ウラヌス&ネプチューン 指示ボールセット(2本組) プリズムステーショナリー 「美少女戦士セーラームーン」 プレミアムバンダイ限定
Description
発売日 - メーカー サンスター文具 型番 S9462139 JAN 4901770434056 備考 商品解説■外部太陽系戦士のアイテムを立体化した指示ボールが遂にプレミアムバンダイ限定で登場!!本商品は、「美少女戦士セーラームーン」に登場するアイテムをモチーフにした、"伸びる"ボールペン「指示ボール」です!「ウラヌス&ネプチューンセット」は変身アイテムであるリップロッドをそれぞれ忠実に再現しました。これらの立体モチーフを取り外すとボールペンになり、更に最大約36cmまで伸びる指示棒としてもお使い頂けます!また、観賞用としてもお使い頂けるよう、紙+ホログラム加工で窓付きの豪華パッケージ!本体もメッキをふんだんに使ったキラキラな仕上がりになっております!二人のアイテムは片時も離さないでください・・・ボールペンとして使ってもよし、指示棒として使ってもよし、「プラネットパワー メイクアップ」で変身してもよしの商品です!【商品詳細】仕様:ボールペン2種各1本セットサイズ:約18cm(最大約36cmまで伸びます)素材:本体軸:真鍮、マスコット:ABSインク色:黒ボール経:0.7mm※中古商品に関しましてインク等の有無、筆記機能の品質は保証外とさせて頂きます、予めご了承ください。 関連商品はこちらから サンスター文具
Customer Reviews
You haven't written any reviews yet.
Related Item Reviews
Sorry, this item has been sold out.