【中古】[FIG]松浦果南(まつうらかなん) ウェットスーツVer. ラブライブ!サンシャイン!! 1/7 完成品 フィギュア アルター(20181031)

Due to the keyword "Ink" being found on the item page, we think this might be a prohibited item. Is this item "Ink", or does the item include ingredients or components containing "Ink"?
If YES, the item cannot be shipped overseas.
If NO, you may proceed with your order.

* If an address within Japan is the final destination of your order, you may proceed regardless.

Item Price

16,200 yen


14,580

yen (including tax)
(≒

136.77 USD

)


2 day(s) left

Shop name

メディアワールド 販売&買取SHOP

Item code

mediaworldkaitoriworld:10260116

Domestic Shipping

Description

The domestic shipping cost displayed is the cost to have an item shipped from the store or seller to our warehouse located in Tokyo.
* Domestic shipping costs displayed with "(est.)" are estimates based on similar shipments in the past.
The actual domestic shipping cost may differ from the displayed amount.

580 yen (est.)
(≒

5.45 USD

)

International Shipping

Description

Calculated based on the estimated weight and size of your item.
Please use this estimate as reference for shipping costs.

Estimate
If you have any questions, requests, or concerns about an item, please contact us.
Sorry, this item has been sold out.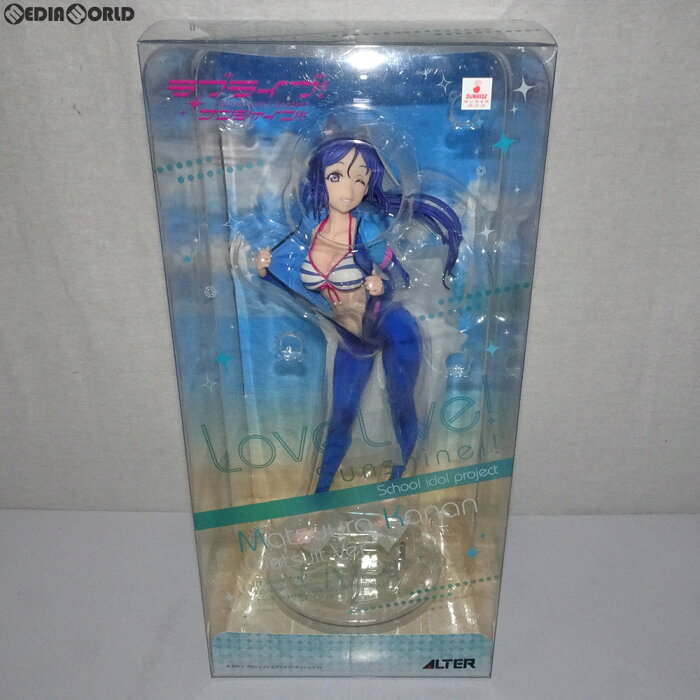 Pictures may not always show the correct item being sold. Please check the description and/or original item page to confirm that this is the actual item you wish to purchase.
Item Name
【中古】[FIG]松浦果南(まつうらかなん) ウェットスーツVer. ラブライブ!サンシャイン!! 1/7 完成品 フィギュア アルター(20181031)
Description
【必ずご確認ください】・こちらは内容物の状態及び動作に問題のない中古商品となります。外箱に経年変化による軽度な擦れや、汚れ等がある場合がございます。・以上をご了承の上、是非ご検討くださいませ。--------------------【基本情報】■タイトル:松浦果南(まつうらかなん) ウェットスーツVer. ラブライブ!サンシャイン!! 1/7 完成品 フィギュア アルター■機種:フィギュア・ドール■発売日:2018/10/31■JAN/EAN:4560228204810■登場作品:ラブライブ!サンシャイン!!■サイズ:1/7スケール(全高約230mm)■商品形態:PVC製塗装済み完成品■原型製作:橋本涼/彩色:鉄森七方■メーカー:アルター【商品説明】スクールアイドルプロジェクト「ラブライブ!サンシャイン!!」より、ウェットスーツ姿で登場!「電撃G`sマガジン2015年10月号」描き下ろしイラストを元に立体化しました。笑顔でウインクをした表情からは、彼女が大好きなダイビングの後の楽しげな雰囲気を感じさせます。身体にフィットしたウェットスーツの造形が彼女のスタイルの良さを引き立て、肌色とのコントラストが目を惹く仕上がりです。濡れた髪の毛の質感表現や、絶妙なツヤ塗装が施されたウェットスーツの彩色にもご注目ください。■専用ベース付属■権利表記:© 2017 プロジェクトラブライブ!サンシャイン!!メディアワールド買取価格10000円【楽●天】X【メディアワールド】安心! 簡単! ポイントアップ! 高価買取りサービスはこちら≫≫>>【新品即納】及び【中古】表記の商品は、PM13時までのご注文で通常即日出荷いたします。(最終ご入金確認PM14時)年中無休で営業しておりますので、ご不明な点やご質問等ございましたらメール(24時間受付)又はお電話(AM10時〜PM18時)でお気軽にお問い合わせください。【中古】[FIG]松浦果南(まつうらかなん) ウェットスーツVer. ラブライブ!サンシャイン!! 1/7 完成品 フィギュア アルター【ラッピングは注文確認画面でご指定ください】
Sorry, this item has been sold out.