バッグ(キャラクター) セーラームーン フラットポーチ 「美少女戦士セーラームーン×ITS'DEMO」
Surugaya charges a 220 yen handling fee for orders below 5000 yen.

Surugaya orders may take longer than others to arrive to our distribution center.
Current average time from order to arrival is 6 to 12 days.
Item Price

500

yen (including tax)
(≒

4.70 USD

)


Item condition

Item code

608342394001

International Shipping

Description

Calculated based on the estimated weight and size of your item.
Please use this estimate as reference for shipping costs.

Estimate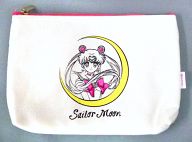 Pictures may not always show the correct item being sold. Please check the description and/or original item page to confirm that this is the actual item you wish to purchase.
Item Name
バッグ(キャラクター) セーラームーン フラットポーチ 「美少女戦士セーラームーン×ITS'DEMO」
Description
商品解説■「美少女戦士セーラームーン」とファッション・コンビニエンス・ストア「ITS'DEMO(イッツデモ)」とのコラボレーションアイテム 「フラットポーチ」となります。 【商品詳細】 サイズ:約21×16cm