生写真(男性)/俳優 松村龍之介(TOKI)/横型・上半身・マイク・ライト・キャラクターショット/「劇団シャイニング from うたの☆プリンスさまっ♪ SHINING REVUE」トレーディングブロマイド
Surugaya charges a 220 yen handling fee for orders below 5000 yen.

Items with the description "この商品は、~店が販売、発送します。" are handled through a physical store branch and not the Suruga-ya online store. Such items will not be counted towards the 5,000 yen total described above.

Surugaya orders may take longer than others to arrive to our distribution center.
Current average time from order to arrival is 10 to 20 days.
Item Price

270

yen (including tax)


(270 yen)




Item condition

International Shipping

Description

Calculated based on the estimated weight and size of your item.
Please use this estimate as reference for shipping costs.

Estimate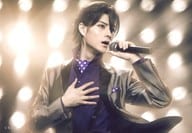 Pictures may not always show the correct item being sold. Please check the description and/or original item page to confirm that this is the actual item you wish to purchase.
Item Name
生写真(男性)/俳優 松村龍之介(TOKI)/横型・上半身・マイク・ライト・キャラクターショット/「劇団シャイニング from うたの☆プリンスさまっ♪ SHINING REVUE」トレーディングブロマイド
Customer Reviews
Related Item Reviews