聖闘士星矢 黄金聖闘士 スタンペン9 タニエバー 谷川商事 | ネームペン ゴールド オリジナルデザイン 聖衣 クロス 車田正美 コレクション オリジナル コレクター 黄金魂 12宮 アニメ グッズ 限定品 スタンプ ネーム印 文具 ボールペン タニエバー
Due to the keyword "Ink" being found on the item page, we think this might be a prohibited item. Is this item "Ink", or does the item include ingredients or components containing "Ink"?
If YES, the item cannot be shipped overseas.
If NO, you may proceed with your order.

* If an address within Japan is the final destination of your order, you may proceed regardless.
Item Price

2,280

yen (including tax)


(2,280 yen)




Shop name

はんこショップおとべ

International Shipping

Description

Calculated based on the estimated weight and size of your item.
Please use this estimate as reference for shipping costs.

Estimate
If you have any questions, requests or concerns about an item, please contact us before placing your order.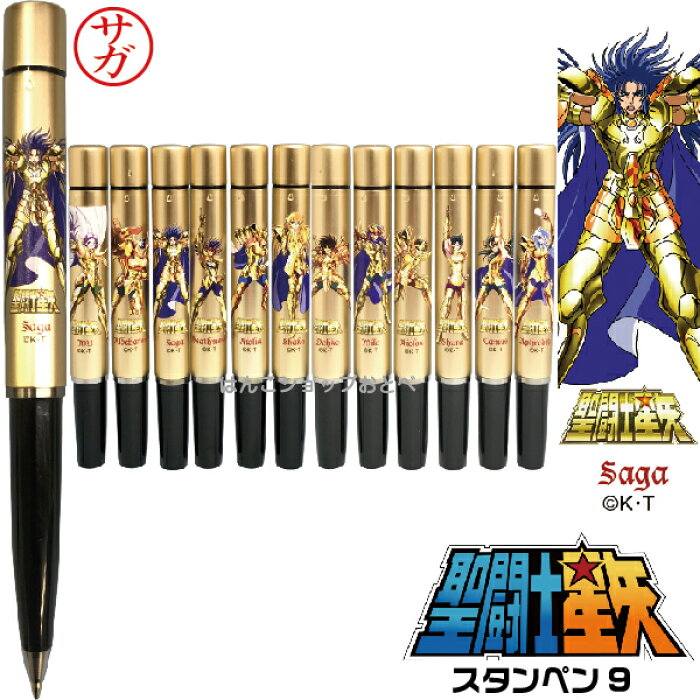 Pictures may not always show the correct item being sold. Please check the description and/or original item page to confirm that this is the actual item you wish to purchase.
Item Name
聖闘士星矢 黄金聖闘士 スタンペン9 タニエバー 谷川商事 | ネームペン ゴールド オリジナルデザイン 聖衣 クロス 車田正美 コレクション オリジナル コレクター 黄金魂 12宮 アニメ グッズ 限定品 スタンプ ネーム印 文具 ボールペン タニエバー
Description
タニエバー ネーム印・スタンペン補充インク タニエバー スタンペン専用 替え芯 レフィール(黒・赤) 67L芯 聖闘士星矢 スタンプ 全8種セット聖闘士星矢・黄金聖闘士スタンペン9 特徴 黄金聖闘士12人を金色の金属ボディに美しく印刷した、聖闘士星矢スタンペン9・ゴールドです。 黄金聖闘士にふさわしいペンとするため、ボディはもちろんとキャップ、クリップ部までを金色に仕上げました! 本体は回転収納式ボールペンと9ミリサイズのネーム印が一つになった、携帯しやすいシンプルなネームペンです。 ネーム部分はキャラクター名でも作成することができます! 仕様 ●キャラクター種類/全12人 牡羊座ムウ、牡牛座アルデバラン、双子座サガ、蟹座デスマスク、獅子座アイオリア、乙女座シャカ、天秤座童虎、蠍座ミロ、射手座アイオロス、山羊座シュラ、水瓶座カミュ、魚座アフロディーテ ●印面パターン/4パターン ※キャラクター名で作成する場合、アルデバラン、アフロディーテは縦2列での配字となります。 ※「アルデ バラン」「アフロ ディーテ」 ●はんこの書体/楷書体 ●印面サイズ/直径9ミリ●インク/顔料系、朱色。 ※タニエバー・スタンペン補充インクを補充可能です。●ペン/ 本体は金属(アルミニウムにゴールド塗装)、クリップ部、キャップは鉄、ペン部はABS樹脂 重量・サイズ:14g・12.3φ×105mm(クリップ部除く)※筆記時は140mm 差込式、黒ボールペン※替芯はスタンペン専用替芯(67L芯)です。 発送 別注品となりますので、6〜7営業日(7〜10日間前後)での発送となります。※メール便、定形外郵便での発送も可能です。