遊戯王 星屑の願い(スターダストウイッシュ) ウルトラレア 20TH-JPB15 永続罠
In order to purchase from this store your order (Charge 1 total) must be at least 450 yen. If your order is below this amount it will be cancelled.
Item Price

100

yen (including tax)


(100 yen)




Shop name

じぃぱわーず楽天市場支店

International Shipping

Description

Calculated based on the estimated weight and size of your item.
Please use this estimate as reference for shipping costs.

Estimate
If you have any questions, requests or concerns about an item, please contact us before placing your order.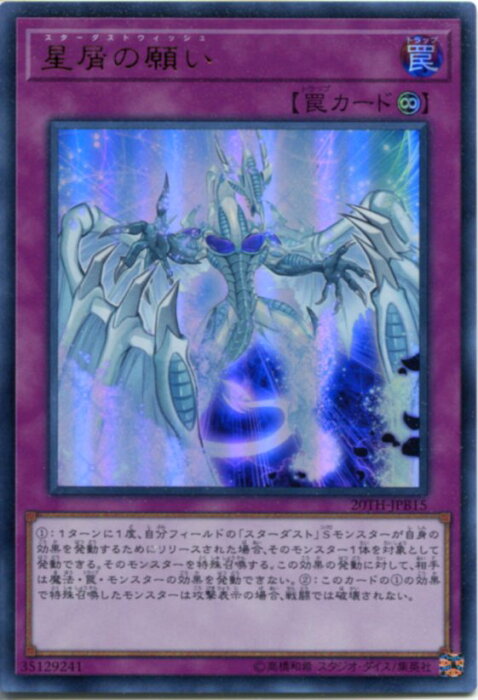 Pictures may not always show the correct item being sold. Please check the description and/or original item page to confirm that this is the actual item you wish to purchase.
Item Name
遊戯王 星屑の願い(スターダストウイッシュ) ウルトラレア 20TH-JPB15 永続罠
Description
遊戯王 20th ANNIVERSARY DUELIST BOX シングルカード 【罠カード】 (1):1ターンに1度、自分フィールドの「スターダスト」Sモンスターが自身の効果を発動するためにリリースされた場合、そのモンスター1体を対象として発動できる。そのモンスターを特殊召喚する。この効果の発動に対して、相手は魔法・罠・モンスターの効果を発動できない。 (2):このカードの(1)の効果で特殊召喚したモンスターは攻撃表示の場合、戦闘では破壊されない。 遊戯王シングルカード