ゴールドフォックス毛皮 ファー ベスト レディース ファーコート 毛皮 コート☆チンチラ/カルガンラム/ロシアンセーブル/外商/ミンク/ムートンコート/ジャケット/ルイヴィトン/ミッソーニ/シャネル/エルメス/グッチ/ロエベ毛皮お好きな方に

Free Domestic Shipping
This item has been blocked due to the keyword "チンチラ (Chinchilla)" in the description. If this item isn't "チンチラ (Chinchilla)" nor contains it and you wish to purchase it, please contact us.
Item Price

49,800 yen


45,816

yen (including tax)
(≈

441.67 USD

)


4 hour(s) left

Shop name

e-Fur イイファー ファッション

Domestic Shipping

Description

The domestic shipping cost displayed is the cost to have an item shipped from the store or seller to our warehouse located in Tokyo.
* Domestic shipping costs displayed with "(est.)" are estimates based on similar shipments in the past.
The actual domestic shipping cost may differ from the displayed amount.

Free Domestic Shipping

International Shipping

Description

Calculated based on the estimated weight and size of your item.
Please use this estimate as reference for shipping costs.

Estimate
If you have any questions, requests or concerns about an item, please contact us before placing your order.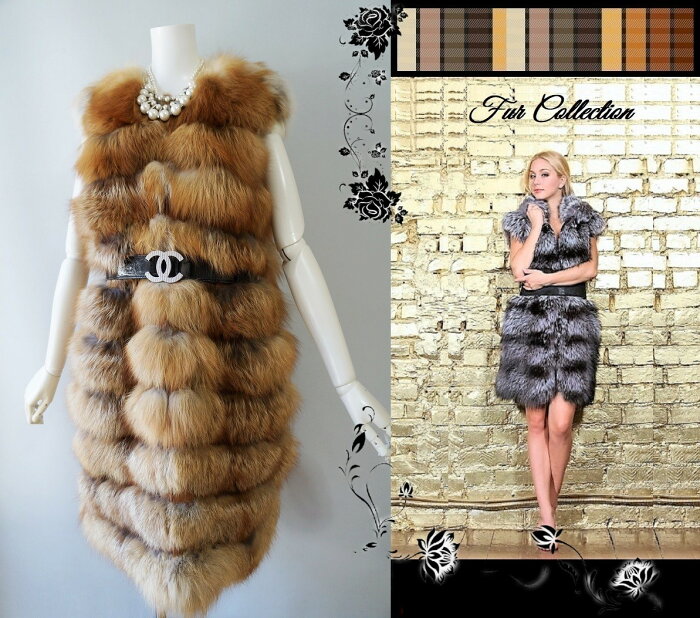 Pictures may not always show the correct item being sold. Please check the description and/or original item page to confirm that this is the actual item you wish to purchase.
Item Name
ゴールドフォックス毛皮 ファー ベスト レディース ファーコート 毛皮 コート☆チンチラ/カルガンラム/ロシアンセーブル/外商/ミンク/ムートンコート/ジャケット/ルイヴィトン/ミッソーニ/シャネル/エルメス/グッチ/ロエベ毛皮お好きな方に
Description
カジュアルながらも存在感抜群!本物毛皮ゴールドフォックスファーベスト 商品詳細 ゴージャスな存在感! リッチ感満載のゴールドフォックスファーベスト Fox Fur Vest ヨーロピアン上質なスタイリングでお届けします♪ 高級感溢れるゴールドフォックスのベスト、豪華なファッション性の高い一着☆ ゴージャスな存在感、セレブリティな雰囲気を演出します☆ 見た目だけでなく、心も若くさせてくれます☆ 上質ゴールドフォックスを贅沢に使用♪ ■北米で養殖されたゴールドフォックス。フェミニンで美しいゴールドフォックスは、シルバーフォックスに似たコシのある毛質が特徴的。サラサラとしたシルキータッチが優しく肌を伝わります。 明るい色味で、顔全体が明るく、暖かく、優しい印象を与えます。☆ 高級感があり、非常に貴重なアイテム リアルファーで周りと差が付くクールさ! 豪華なリアルファーで、羽織るだけでコーディネートを華やかにグレードアップしてくれるので、これ1着で抜群の存在感でオシャレ際立つ☆ ワンラング上のカジュアルスタイル トレンド感もバッチリ☆ 人とかぶらない個性を発揮したい方には、お勧めのアイテムです ※写真用の革ベルトとシャネルベルトは付属しておりません。 新品サンプル処分  格安で出品いたします サイズ・素材・色 サイズ   フリー(M〜L) 採寸    肩幅38cm 胸囲104cm 着丈88cm  留め具   カギホック×4 ポケット  左右に1ヶ所ずつ 素材:   ゴールドフォックスファー 裏地:   シルクタッチ  色:    ナチュラルゴールド(マルチカラー) 発送詳細 送料無料(佐川急便) 毛皮製品の御取リ扱いのご注意 ・雨や雪で濡れた場合は湿気を取って、タオルなどで軽く拭き、 陰干しで自然に乾かしてください。 ・チリやホコリはブラシで落とし、 細い棒で毛を痛めないように軽く叩いてください。 ・防虫剤は毛皮に直接触れないようにし、 一種類だけ使用して下さい。 なるべく湿気の少ない涼しい所に保管してください。 ・クリーニングの必要な場合は 毛皮専門のクリーニング店に相談して下さい 。 店長コメント シンプルな装いも、このファーベスト羽織るだけで ぐっと華やかなスタイルに仕上がります☆