【当店限定ブレスレットセット】(電池交換不要) スワロフスキー使用 セイコー腕時計 SEIKO セイコー 時計 レディース 腕時計 ラメ きらきら ホワイト 白 [ 40代 30代 女性 ブランド 防水 高級 革ベルト レザー ソーラー おしゃれ かわいい シンプル プレゼント ギフト ]

Due to the size, nature, contents of this item, there is a possibility that it can only be sent internationally via FedEx.

Item Price

37,400

yen (including tax)
(≒

350.44 USD

)


Shop name

腕時計のセレクトショップカプセル

Item code

capsule:10063398

International Shipping

Description

Calculated based on the estimated weight and size of your item.
Please use this estimate as reference for shipping costs.

Estimate
If you have any questions, requests, or concerns about an item, please contact us.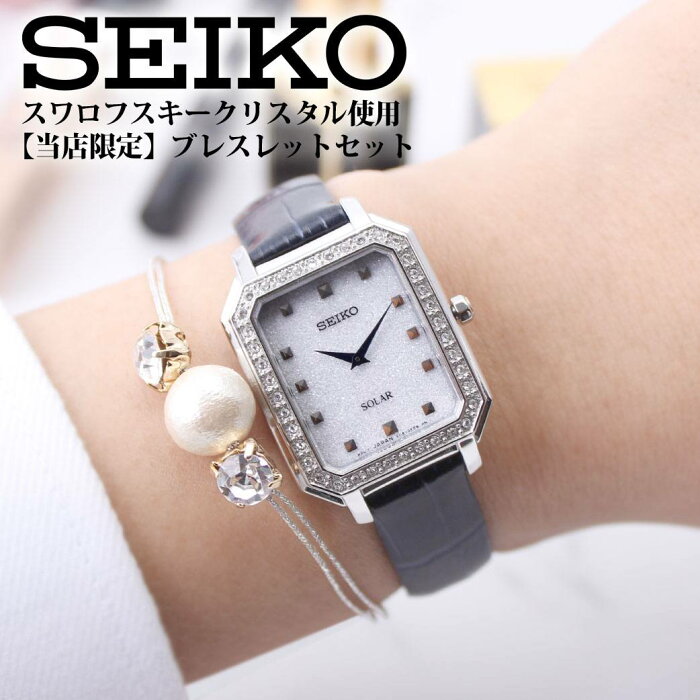 Pictures may not always show the correct item being sold. Please check the description and/or original item page to confirm that this is the actual item you wish to purchase.
Item Name
【当店限定ブレスレットセット】(電池交換不要) スワロフスキー使用 セイコー腕時計 SEIKO セイコー 時計 レディース 腕時計 ラメ きらきら ホワイト 白 [ 40代 30代 女性 ブランド 防水 高級 革ベルト レザー ソーラー おしゃれ かわいい シンプル プレゼント ギフト ]
Description
メーカー希望小売価格はメーカーサイトに基づいて掲載していますこの商品のお問い合わせ番号CPR-select-seiko_004■ 商品詳細説明 セイコー[SEIKO]セイコーは日本初の腕時計・世界初のクオーツウォッチを製品化し、現在も時計関連で有名で、オリンピックなどの世界大会などで公式スポンサー、オフィシャルタイマーとしてたびたび参加しています。戦前・戦後から後楽園球場、東京ドーム)、明治神宮野球場と球場のスポンサーになったのを日切りに、スポーツ競技場のタイマーでもおなじみです。入学祝いなどのプレゼント・ギフトとしてもとても人気のあるブランドです。日本国内で発売されていないモデルなので、入手が非常に困難なこと、国内モデルにはない多彩なカラーの物や、多様なデザイン性が高い人気を集める要因になっています。そして、奇抜というだけではなく、日本人の感性に合わせたスタイリッシュなフォルムも兼ね備えています。 型番SUP429P1ケース材質:ステンレススティールサイズ約:縦28×横23mm重さ約:23gベルト材質:カーフレザーカラー:ネイビーベルト腕周り最少:13cmベルト腕周り最大:16cmムーブメントソーラー(充電式)機能風防素材:ハードレックスクリスタル留め金:中留穴め式ピンバックルソーラー駆動防水機能防水性:日常生活用防水付属品時計BOX保証書取扱説明書※説明書・保証書に関して入荷時期により仕様、内容が一部異なる場合がございます。予めご了承をお願い致します。