【新品】キャラクター万能ラバーマット ラブライブ!サンシャイン!!「高海 千歌」ぬいぐるみ抱っこVer. / ブロッコリー 入荷予定:2017年05月頃

-The item page includes the keyword "入荷次第 (Once in stock)". The item may be a pre-order. Check the item page for more information about the release date.

Item Price

3,300 yen


3,135

yen (including tax)
(≒

3,135.00 Yen

)


1 day(s) left

Shop name

AKIBA-HOBBY 楽天市場店

Domestic Shipping

Description

The domestic shipping cost displayed is the cost to have an item shipped from the store or seller to our warehouse located in Tokyo.
* Domestic shipping costs displayed with "(est.)" are estimates based on similar shipments in the past.
The actual domestic shipping cost may differ from the displayed amount.

880 yen (est.)
(≒

880.00 Yen

)

International Shipping

Description

Calculated based on the estimated weight and size of your item.
Please use this estimate as reference for shipping costs.

Estimate
If you have any questions, requests or concerns about an item, please contact us before placing your order.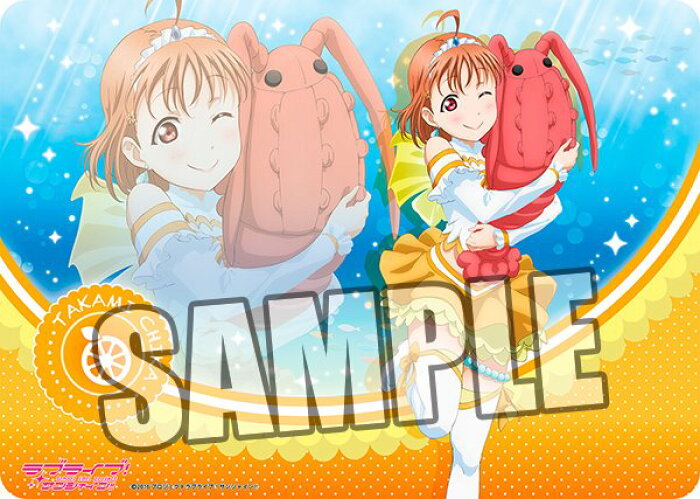 Pictures may not always show the correct item being sold. Please check the description and/or original item page to confirm that this is the actual item you wish to purchase.
Item Name
【新品】キャラクター万能ラバーマット ラブライブ!サンシャイン!!「高海 千歌」ぬいぐるみ抱っこVer. / ブロッコリー 入荷予定:2017年05月頃
Description
【発売日】2017年05月予定【発送時期】入荷次第発送※メーカー・問屋の都合により発売日より入荷が数日遅れる場合がございます。予めご了承上ご注文頂けます様お願い申し上げます。ご注文前にFAQを必ずご参照ください。【ジャンル】トレーディングカート プレイマット--------------------------------------駿河湾のかたすみにある小さな高校で9人の少女たちが、大きな夢を抱いて立ち上がる。大人気TVアニメ『ラブライブ!サンシャイン!!』から、Aqoursの9人全員のラバーマットが登場!第2弾は2年生3人です!サイズ:短辺約370×長辺約520×厚さ約2mm(C)2016 プロジェクトラブライブ!サンシャイン!!