Dior Homme13AWディオールオム ダブルモンクブーツ コート ジャケット ライダース デニム サンローランパリハイカットレザーシューズ 43
Current Bid

33,000

yen (including tax)
(Reference Price:

301.62 USD

)
Buy it now price

35,000

yen (including tax)
(Reference Price:

319.91 USD

)
Time left

2 days 19:30:07

Seller
btynjctey_asaik (Personal)
Sellers Rating / Feedback
1,553 (

good

1,564

bad

11)
Quantity:
What's a sniper bid?
Description
If you choose the sniper bid option, your bid will be placed within the last 10 minutes of the auction.
After placing a sniper bid, please be aware that there are several cases where you bid will not be made:
1. Another bidder has placed a bid above your maximum bid
2. The seller ends the auction early before our sniper bid is placed
3. The seller does not wish to sell to proxy services and cancels our bid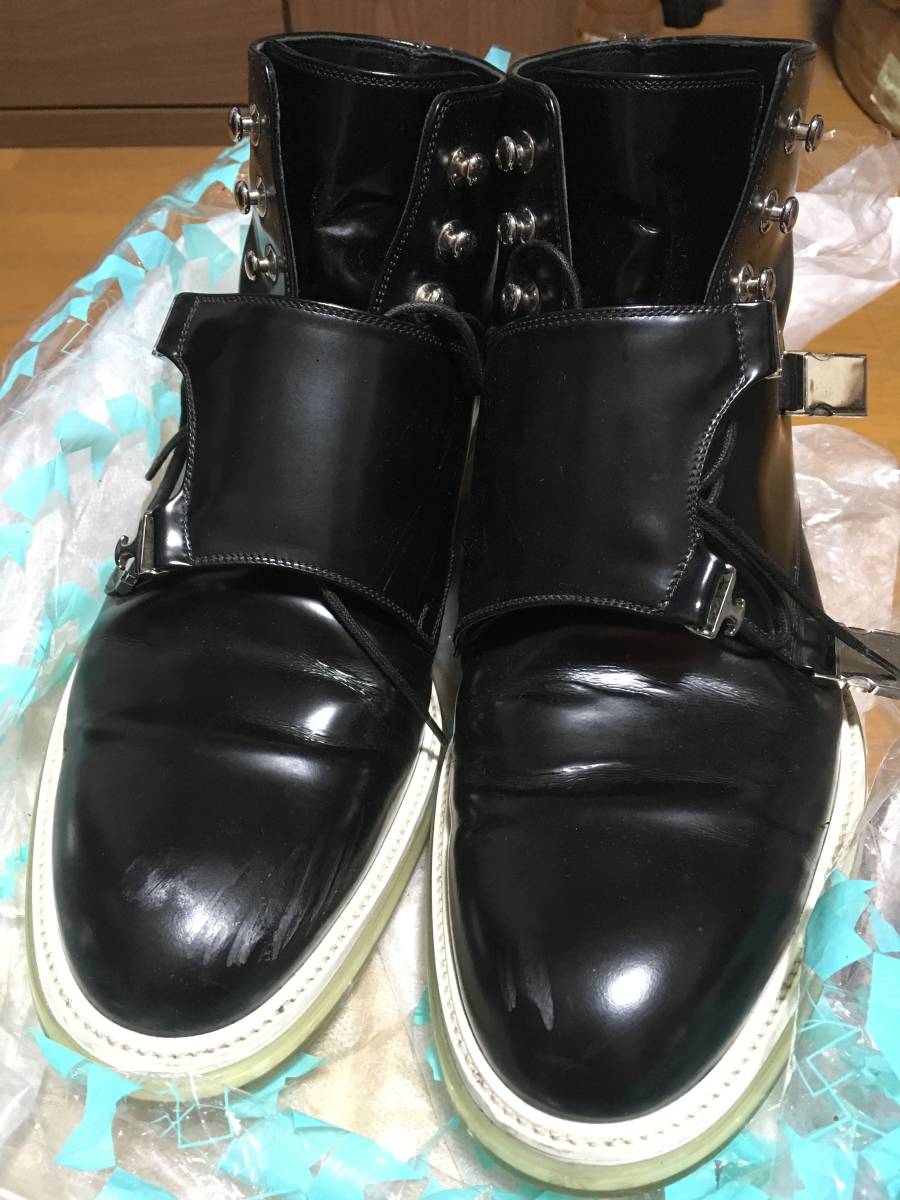 Pictures may not always show the correct item being sold. Please check the description and/or original item page to confirm that this is the actual item you wish to purchase.
Item Information
Auction ID
n303913422
Current bids
0
Item condition
Others
Quantity
1
Automatic extension
Enabled
Early closure
Enabled
Seller type
Personal
Item location
東京都
Start price
33,000 yen
(Reference Price:

301.62 USD

)
Bid increment
500 yen
(Reference Price:

4.57 USD

)
Start time
2020-02-18 23:59 (Japan Time)
End time
2020-02-25 23:59 (Japan Time)
Domestic Shipping

Description

The domestic shipping cost displayed is the cost to have an item shipped from the store or seller to our warehouse located in Tokyo.
* Domestic shipping costs displayed with "(est.)" are estimates based on similar shipments in the past.
The actual domestic shipping cost may differ from the displayed amount.

Postage not included
International Shipping

Description

Calculated based on the estimated weight and size of your item.
Please use this estimate as reference for shipping costs.

Estimate
Estimated arrival date

Description

* Estimated delivery time from the seller to FROM JAPAN's distribution center. Items may not arrive within the estimated period if for instance they are pre-order items or the seller does not have stock, etc.

2020-03-04 (Wed)
Item Name
Dior Homme13AWディオールオム ダブルモンクブーツ コート ジャケット ライダース デニム サンローランパリハイカットレザーシューズ 43
Description
Dior HOMME 13aw ダブルモンクハイカットレザーブーツになります。

13awの中でも非常に人気のあったアイテムです。

多少使用感はあります。ソールはそんなに減っていません。履きジワは少しあります。

定価は13万程でした。

中古の出回りはまずないと思いますのでこの機会にぜひ。

とてもスタイリッシュでかっこいいと思います。
サイズは43です。アウトソールは31cm
発送方法は宅急便を予定しております。
何か質問がございましたら気軽に聞いてください。

Quantity:
What's a sniper bid?
Description
If you choose the sniper bid option, your bid will be placed within the last 10 minutes of the auction.
After placing a sniper bid, please be aware that there are several cases where you bid will not be made:
1. Another bidder has placed a bid above your maximum bid
2. The seller ends the auction early before our sniper bid is placed
3. The seller does not wish to sell to proxy services and cancels our bid