VERSACE◆ショルダーバッグ/レザー/BLK
Sorry: Auction of item URL or Auction ID that you filled in has been closed.
Current Bid

44,900

yen (excluding tax)
(Reference Price:

418.47 USD

)
Buy it now price

44,900

yen (excluding tax)
(Reference Price:

418.47 USD

)
Time left

Closed

Seller
ssol_sell (Store)
Quantity:
What's a sniper bid?
Description
If you choose the sniper bid option, your bid will be placed within the last 10 minutes of the auction.
After placing a sniper bid, please be aware that there are several cases where you bid will not be made:
1. Another bidder has placed a bid above your maximum bid
2. The seller ends the auction early before our sniper bid is placed
3. The seller does not wish to sell to proxy services and cancels our bid
Pictures may not always show the correct item being sold. Please check the description and/or original item page to confirm that this is the actual item you wish to purchase.
Item Information
Auction ID
g385087573
Current bids
0
Item condition
Others
Quantity
1
Automatic extension
Enabled
Early closure
Enabled
Seller type
Store
Item location
千葉県
Start price
44,900 yen
(Reference Price:

418.47 USD

)
Bid increment
500 yen
(Reference Price:

4.66 USD

)
Start time
2019-11-30 18:17 (Japan Time)
End time
2019-12-07 18:17 (Japan Time)
Domestic Shipping

Description

The domestic shipping cost displayed is the cost to have an item shipped from the store or seller to our warehouse located in Tokyo.
* Domestic shipping costs displayed with "(est.)" are estimates based on similar shipments in the past.
The actual domestic shipping cost may differ from the displayed amount.

550yen(est.)
(Reference Price:

5.13 USD

)
International Shipping

Description

Calculated based on the estimated weight and size of your item.
Please use this estimate as reference for shipping costs.

Estimate
Payment Fees

Description

The estimated Payment Fee displayed is our prediction based on previous transactions from the same store or seller.
Please feel free to use it for reference when estimating the total cost of your purchase.
* The Payment Fee displayed is simply an estimate based off our reference data, and as such may not reflect the actual Payment Fee for this item.


200yen(est.)
(Reference Price:

1.87 USD

)
Item Name
VERSACE◆ショルダーバッグ/レザー/BLK
Description


VERSACE◆ショルダーバッグ/レザー/BLK
ブランド
VERSACE
型番
カラー
ブラック
柄
素材・生地
レザー
表示サイズ
実寸サイズ
【バッグ】 持ち手:92 / マチ:4 / 高さ:28.5 / 幅:27.5-31 【その他】 その他サイズ:

コンディション(商品の状態)
■商品のお問い合わせ
---
商品は スーパーセカンドストリート柏沼南店
の店頭にて販売しております。商品に関するお問合わせは、
お電話(TEL:04-7190-1070) にて、
問合わせ番号 2318750518514 をお伝えください。

■出品店舗情報
---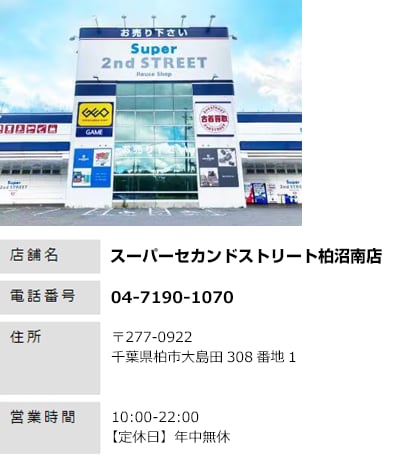 Quantity:
What's a sniper bid?
Description
If you choose the sniper bid option, your bid will be placed within the last 10 minutes of the auction.
After placing a sniper bid, please be aware that there are several cases where you bid will not be made:
1. Another bidder has placed a bid above your maximum bid
2. The seller ends the auction early before our sniper bid is placed
3. The seller does not wish to sell to proxy services and cancels our bid