【1円スタート】 神威(悪党)&坂田銀時(甘党) 銀魂 フィギュア 一番くじ かぶき町の愉快な仲間と悪党ども バンプレスト
Sorry: Auction of item URL or Auction ID that you filled in has been closed.

-Due to the keyword "ジャンク (junk)" in the description, this item may be ineligible for the Buyer Protection Plan. Even if you choose the Buyer Protection Plan, items determined to be ineligible will be removed from the plan.

Current Bid

551

yen (excluding tax)
(Reference Price:

5.20 USD

)
Time left

Closed

Seller
hugmart2013 (Store)
Quantity:
What's a sniper bid?
Description
If you choose the sniper bid option, your bid will be placed within the last 10 minutes of the auction.
After placing a sniper bid, please be aware that there are several cases where you bid will not be made:
1. Another bidder has placed a bid above your maximum bid
2. The seller ends the auction early before our sniper bid is placed
3. The seller does not wish to sell to proxy services and cancels our bid
Pictures may not always show the correct item being sold. Please check the description and/or original item page to confirm that this is the actual item you wish to purchase.
Item Information
Auction ID
d415830365
Current bids
11
Item condition
Others
Quantity
1
Automatic extension
Enabled
Early closure
Enabled
Seller type
Store
Item location
神奈川県 横浜市瀬谷区
Start price
1 yen
(Reference Price:

0.01 USD

)
Bid increment
10 yen
(Reference Price:

0.10 USD

)
Start time
2020-01-24 20:14 (Japan Time)
End time
2020-01-28 21:57 (Japan Time)
Domestic Shipping

Description

The domestic shipping cost displayed is the cost to have an item shipped from the store or seller to our warehouse located in Tokyo.
* Domestic shipping costs displayed with "(est.)" are estimates based on similar shipments in the past.
The actual domestic shipping cost may differ from the displayed amount.

630 yen (est.)
(Reference Price:

5.95 USD

)
International Shipping

Description

Calculated based on the estimated weight and size of your item.
Please use this estimate as reference for shipping costs.

Estimate
Payment Fees

Description

The estimated Payment Fee displayed is our prediction based on previous transactions from the same store or seller.
Please feel free to use it for reference when estimating the total cost of your purchase.
* The Payment Fee displayed is simply an estimate based off our reference data, and as such may not reflect the actual Payment Fee for this item.


200 yen (est.)
(Reference Price:

1.89 USD

)
Current high bidder
6*C*G*** (Another bidder) / Seller feedback:572
Item Name
【1円スタート】 神威(悪党)&坂田銀時(甘党) 銀魂 フィギュア 一番くじ かぶき町の愉快な仲間と悪党ども バンプレスト
Description
こちらの商品は「状態ランク:B」です
S
未使用品または新品同様
A
汚れやダメージが目立たない美品
B
使用感はあるが、ダメージが比較的目立たない良品
C
使用感があり汚れやダメージが見られるが、問題なく日常で使用できる
D
汚れや破れ、シミなど目立つかなり使用感の見られる訳あり品
J
ジャンク品、または素材、部品取りのもの
アイテム名
【1円スタート】 神威(悪党)&坂田銀時(甘党) 銀魂 フィギュア 一番くじ かぶき町の愉快な仲間と悪党ども バンプレスト
管理番号
bti0004239
特記事項
★比較的状態の良いお品物となっております。

付属品
―
※中古品のため、リボンや替えのベルトなど、新品購入時の付属品が揃っていない場合がございます。
 商品画像に写っているもの、商品説明文に記載のあるものが全てとなります。
ブランド
神威(悪党)&坂田銀時(甘党)
ライン
一番くじ かぶき町の愉快な仲間と悪党ども バンプレスト
カラー
マルチカラー系その他
素材
―
※素材については商品画像に記載している場合がございます
・ご使用のモニター設定により色味が異なる場合があります
・デザイン上、意図的に加工を施した商品があります
・類似品、贋物等は一切取り扱っておりません
・【中古】表記商品については商品状態を確認のうえ、中古品の性質をご理解頂きご購入下さい。
・「訳あり」「動作未確認」と記載のある商品は、動作の保証ができかねます。
 動作しない場合でも返品は承れません。ご了承下さい。
・配送業者:日本郵便(ゆうパック)
・送料:全国一律630円(税込)
※30万円以上の高額品や特定ジャンルのお品物については、佐川急便を使用する場合がございます。
※配送業者のご指定はお受けできません。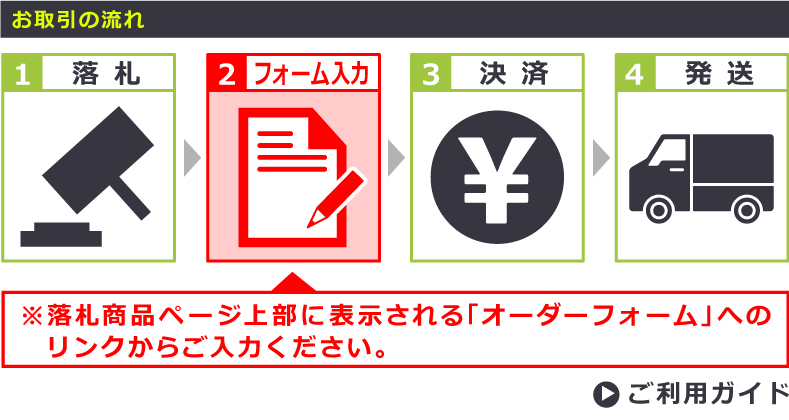 Quantity:
What's a sniper bid?
Description
If you choose the sniper bid option, your bid will be placed within the last 10 minutes of the auction.
After placing a sniper bid, please be aware that there are several cases where you bid will not be made:
1. Another bidder has placed a bid above your maximum bid
2. The seller ends the auction early before our sniper bid is placed
3. The seller does not wish to sell to proxy services and cancels our bid